Categories: 3 column, Pre-installed, Widget Support, Brown, Red, Fixed, Menu, Sidebar 2, Intro/featured posts support, Blog / General, b2evo v5, b2evo v6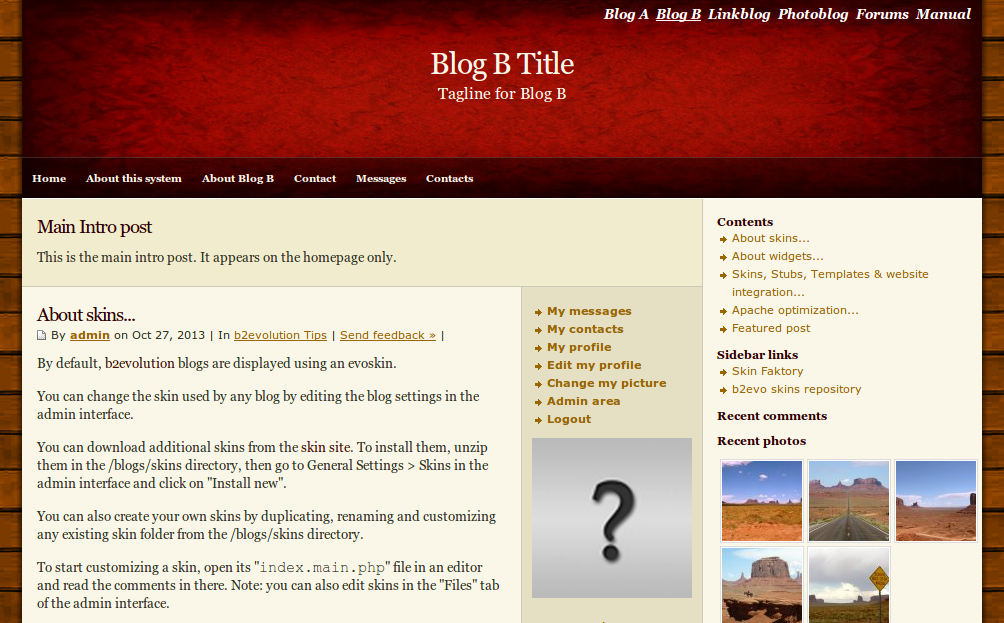 | | |
| --- | --- |
| Author Name | |
| Author Username | |
| Author URL | |
| Designer Name | |
| Designer URL | |
This skin is included in b2evolution v2 and above
Update Log
v1.1.1
Intro posts layout fix
New skinshot
1 comment
I modified evocamp for my site birthdayshoes.com (see URL in link). The skin has served me very well and people really dig my site look as modified, which was pretty easy. I've now changed a good bit about evocamp to suite my needs, but the core is still pretty much the same. Biggest change was to make the multi-post appearance (main blog page, cat pages etc) different from single post appearances – essentially swapping a three column main format to a two column individual post format.
My only complaint about evocamp (which is what led to my change) is that the midcontent sidebar is above the main content of the blog (probably so that it floats properly) – this may (or may not, I'm no expert) be hurting SEO as the midcontent gets crawled in advance of the meat of the blog (the individual posts). My dual three/two column structure is actually an attempt to fix that.
Still, great skin – thanks!