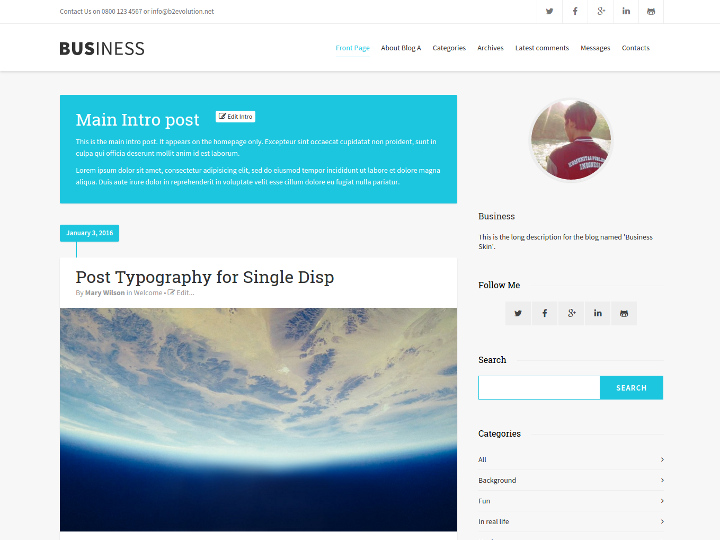 Business is a professional, clean & personal blogging skin tailored to be exceptional on b2evolution CMS. Not only is its modern design is pleasing to the eyes, but it packs a robust, yet easy-to-use back-end system, all managed through skin settings in b2evolution's back-office. Perfect choice for your personal, niche, corporate, marketing, authority or any type of creative blog / magazine.
It is highly customizable so it can match your personal taste. Enjoy plenty of awesome features, such as a variety of post layout options, numerous sidebar & footer widgets, and plenty of color, background and other skin customization options.
| | |
| --- | --- |
| Author Name | |
| Author Username | ariflaw |
| Author URL | |
| Designer Name | |
| Designer URL | |
Front page layout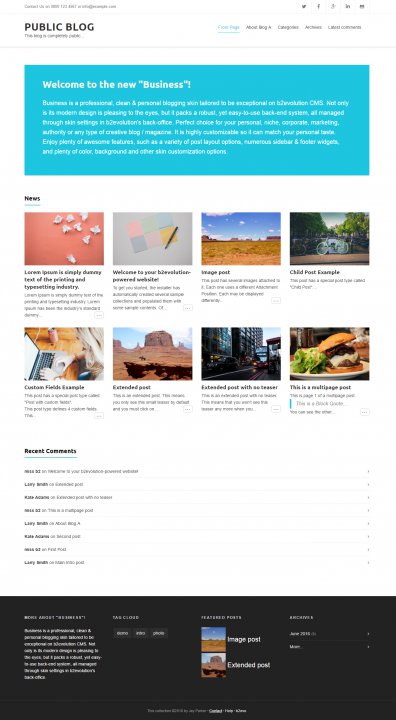 Regular posts layout

Mini-blog posts Layout

Media Page Layout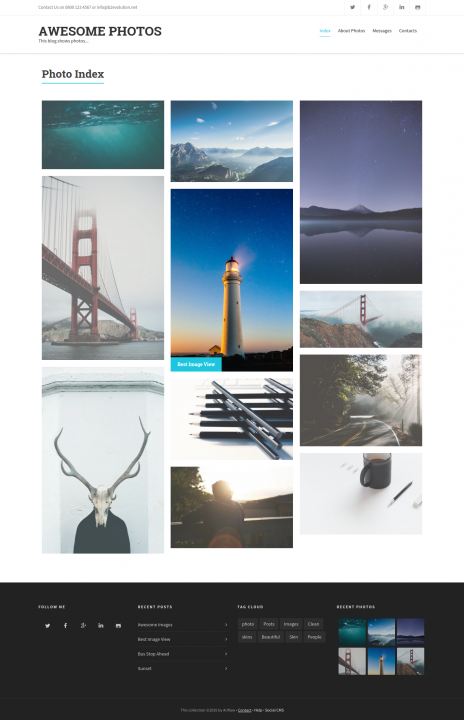 Responsive layout at different widths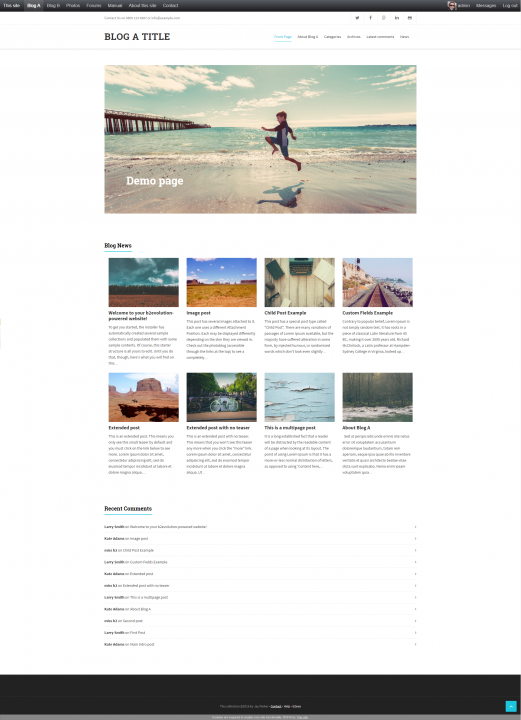 Some of the Features:
Fully Responsive Design
Unlimited Color Schemes
Unlimited Background Color
Top Bar Header Elements
Smooth Sticky Top Bar with Logo
Responsive Mobile Menu
Full Width Elements
Unlimited Sidebars Layout
Standard Blog Layout
Mini Blog Layout
Full Post, Sidebar, and Grid
List Layout Full Width
Blog Layout Full Width
Blog Large Media
Blog Small Media
Photo Index Style Masonry
One Column
Right Sidebar
Left Sidebar
Footer Widget
Social Icon
Back to top button
Crossbrowser Compatible
Free Updates and new features.
Update Log:
v7.3.4-stable
Optimized for b2evolution 7.x
v6.3.5-stable
Optimized for b2evolution 6.3.x to 6.x.x
v1.3.1-stable
Updated CSS and JS thumbprints for this skin's plugins and libraries
Fix for floated images in content
Improved default style for "About Author" widget
Item Single widget enabled for additional back-office customization on disp=single
Modified back-office customization titles for easier use
Added translation notes for easier skin translation (multilanguage compatibility)
v1.3.0-stable
New fonts
New cover image positions on posts
Masonry layout improved/simplified - removed unnecessary sections
Added four columns option for Masonry layout
Fixed word wrapping on narrow sections
More user-friendly background customizaiton options of the skin
Additional small skin fixes
v1.2.1-stable
New Masonry layout on Posts page
List layout fix for all list-type widgets
v1.1.0-beta
New layout system for widgets. Users can now apply different layouts for various widgets, with a small use of Bootstrap's grid system.
6 comments
Could it be, that the skin is not running with b2evolution 6.10.6-stable?
i don't understand the naming convention with the downloadable versions here

i would expect version 7.3.4 being the latest version, but why then is it ordered between 1.3.1. and 6.3.5.?
probably it would be helpful, if you added dates of production maybe in the brackets next to the volume of the file. that would have answered my question.
One more point: for users it would be extremly helpful if the latest changes would be documented in the Update Log … working 1.3.1. and i wonder, if i should upgrade to a later version now??
I refered to the 'Update log' above. Documentation there ends with version v1.3.1-stable and there is no mention of what is added / changed in version 6.3.5 or version 7.3.4.
How should one decide if it is needed or worth to replace for example a v1.3.1-based clone that some people might use?
I seem to have an install issue with version 7.3.4. (but don't have time to verify before weekend). Version 6.3.5. installation did work …